Here, you can find various types of food assistance. Here on this page, they are categorised by our Halal food package and the rest of general food bank support. If you can visit the Accept International Office in Tokyo, you can receive the support from us. If it is difficult for you to visit our Office, then you will be introduced to a local food bank near you to help you receive the right support.
Halal Food Assistance by Accept International
First and foremost, we provide the Halal food package which help Muslim people feel assured to eat. Things you can receive may vary each time, and we try our best to provide Halal and nutritious food for all. Here is an example of what you can receive: pasta, tinned tomatoes, rice, noodles, beans and so on. You can find the details of how to get this support below.
To receive at distribution day
When

Regularly held: The fourth Saturday of every month

Where
Accept International Office
Nihonbashi Yoshiizumi Building 301 (3rd floor), 1-chōme-11-5 Nihonbashihoridomechō, Chuo City, Tokyo 103-0012
Available for
Any foreigners living in Japan who are struggling to get food
How to receive

Please request through a contact form and specify your request as 'halal food support'

What to receive
pasta, tinned tomatoes, rice, noodles, beans, vegetables

, fruits 

etc

※Subject to availability 

Cost
Free of charge
Note
・If you have a food allergy, inform us about it in advance.
・In general, you cannot choose what to receive except if you have a food allergy.
・No parking lots available. Use public transportation as necessary.
・Bring a big bag to carry food home.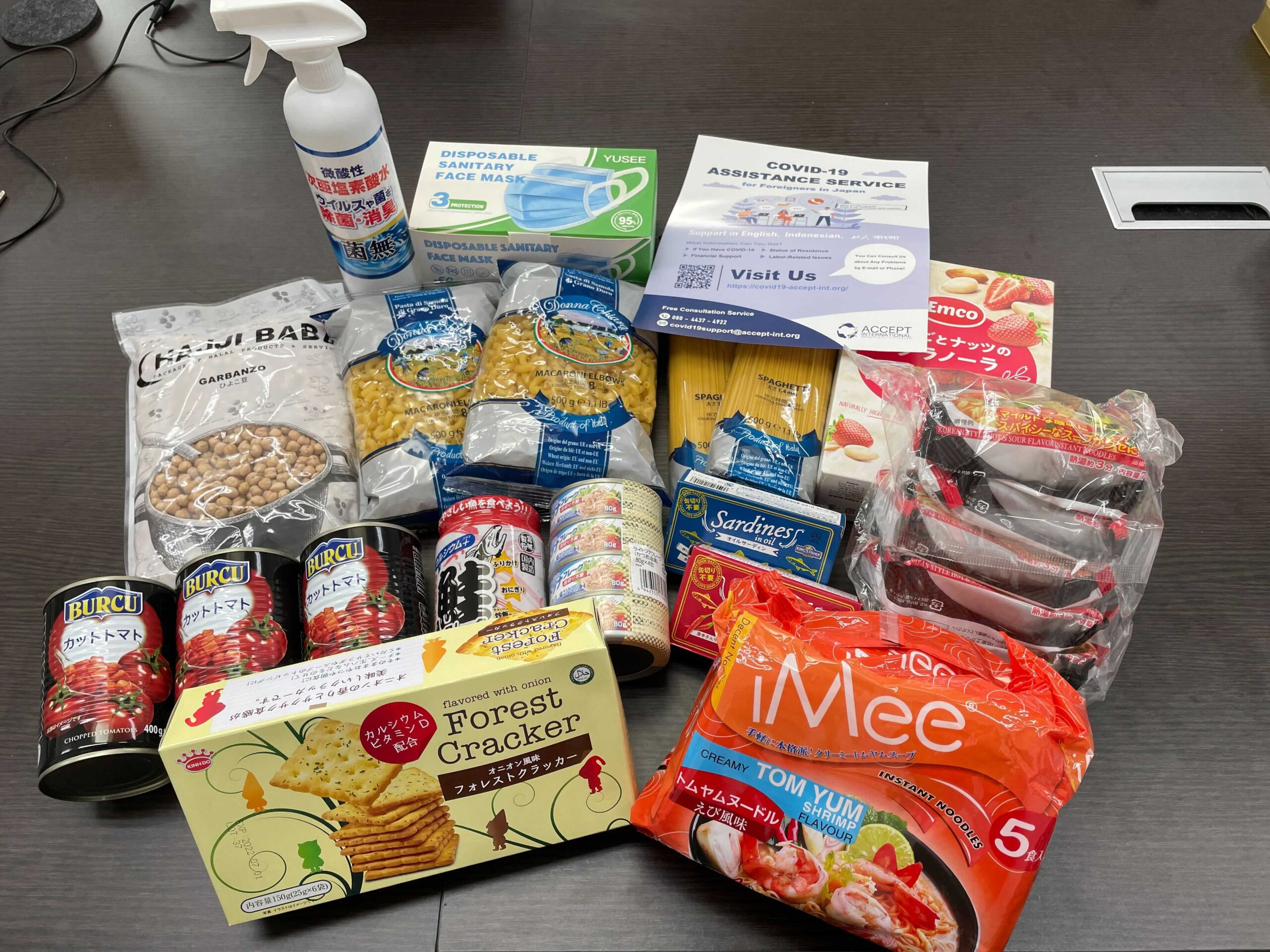 Basic info
As previously mentioned, if you are unable to make a visit to our office to retrieve the food, you can ask your local food bank for help. If necessary, we can help you find a food bank near you and help you get their support smoothly.
FOOD BANK
There is an organisation called "Food bank" which collects non-standard products produced in the production process of food companies etc. and provides them for welfare facilities for free. Food banks also support people who need food aid, such as those who take care of children who cannot eat school lunch because of school closure, or needy people who lose their job due to the spread of COVID-19.
How to gain support from food banks depends on each of them. If you have any questions, such as  how to look for a food bank near where you live, how to receive support, etc. feel free to contact us.
In order to obtain food aid from food banks, there are two ways: ①recieve direct support from food banks or organisations which cooperate with food banks  without a letter of invitation ②recieve food through administrative liaisons, Council of Social Welfare, or NPO liaisons.
How to gain support from food banks depends on each of them, so please contact the food bank near where you live and check how to receive food.
※Since food provided by food banks is donations, you may not be able to request specific food.
List of food bank in Japan
For people living in Tokyo, Kanagawa, and Saitama
Soup-run in 23 districts in Tokyo
※Even if you receive direct support from food bank or a support group, you need a letter of invitation issued by administrative liaisons, Council of Social Welfare, or NPO liaisons from the second time. If you need an invitation letter, please contact an organization below.
Kodomo Shokudou
There are restaurants which serve meals for free or at the low price called "Kodomo Shokudo" managed by local volunteers. Originally, they provided meals for needy families or children who eat alone to make the society where children spend their time in peace without being hungry. Currently, all generations can use them freely. Please look for a Kodomo Shokudo near where you live from the site below.